Ready for round?
Northridge is a 9-hole golf course, with an average par four. We welcome casual players as well as Frisbee (also known as Disc) and Fling golfers.
Northridge Golf Resort offers casual golfers a unique and picturesque 9-hole golf course, with an average par four.
If you're a Frisbee (Disc) or Fling convert or wish to give it a go, you've come to the right place. You can hire everything you need for a round.
We're open 7 days a week, with no bookings required. Pay your green fees at our cafe and grab a coffee and muffin while you're at it.
Enjoy a round of golf on our manicured grounds amongst tall established trees, clearly defined water hazards and putting greens.
Our course can provide a relaxing and fun stroll, or for the more competitive, a challenging contest.
Our cafe also serves beer and wine if you'd like the 10th hole experience on your return.
Green Fees $20
No booking required.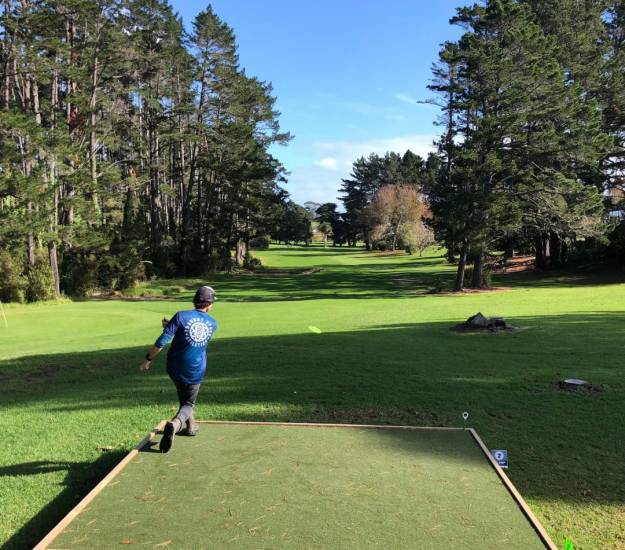 Frisbee Golf
We're a popular Frisbee or Disc Golf destination. It's a great way to bring together friends and family and have some fun and laughs. Frisbee golf is similar to regular golf. Players use golf discs and aim for a Disc Pole Hole. It's a pole extending up from the ground with chains and a basket where the disc lands. You'll love it. Frisbee Green Fees $10 Frisbee Hire $10
Fling Golf
If you can throw a ball, you can play Fling Golf. As a sport, it's easy to start and fun to master. Instead of hitting a golf ball with a club, you use a single Fling Stick to hurl the ball and shape every shot from tee to hole. You can even play in the same foursome with traditional golfers. Fling Golf uses the same tee box, balls and greens. Fling Green Fees $20 Fling Stick Hire $20
What our previous guests have said
Had a business conference at Northridge Country Lodge. Delicious lunch, facilities are clean and air-conditioned. Very helpful staff. Will certainly use again.
Fleur McLean
Just had a lovely breakfast here and the staff are very friendly.
Cathy Anderson
Regularly have staff meetings here in the conference rooms. Nice peaceful setting in the Dairy Flats countryside, on a golf course, yet really accessible as
Paul Bailey